Receive qualified
e-commerce leads
We reach the e-shoppers at the right time for your retail and travel products, and redirect them to your online store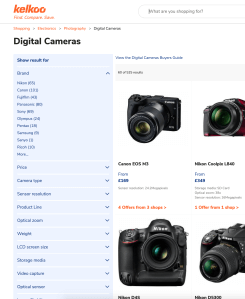 Boost your e-commerce acquisition
At Kelkoo Group, we are specialised in e-commerce advertising, connecting merchants to consumers. With over 22 years of experience in e-commerce, digital marketing and consumer intelligence, we use shopping intent data and cutting-edge technology to deliver quality traffic to online shops by displaying their product to millions of e-shoppers.
Managing 275 million offers monthly, our proprietary network of European Price Comparison sites and over 2500 publishers, will enable you to drive more quality e-commerce leads to your online shop. As a Google Shopping Premium Partner, we can support your Google Shopping Ads campaigns, offering self-service access or providing full campaign management.
Partner with us and benefit from our wide range of e-commerce lead generation solutions, adaptable to any product category or budget size.
Success stories


Find out more in our latest success stories from retailers who have used Kelkoo Group's e-commerce solutions

Meet our team
Our dynamic team of talented account managers are on hand to help you get your campaigns up and running, dedicated to improving your e-commerce acquisition by driving qualified leads to your online store while guaranteeing an improvement on your ROAS (Return on Ad Spend). From day to day management to troubleshooting, we are here to go the extra mile.