Access
scalable

solutions for your merchants

Make the most of your performance campaigns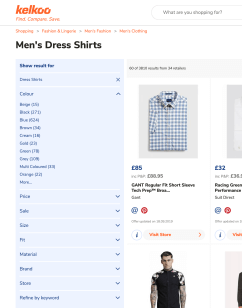 We ensure the best performance for your clients
Track your ROAS (Return on Ad Spend) and produce reports to manage your ad campaigns' profitability whilst continually refining your positioning
At Kelkoo Group, we are experts in e-commerce, digital marketing and consumer intelligence, providing specialised solutions to connect clients and merchants to consumers. With over 22 years' experience, we use shopping intent data and cutting-edge technology to deliver quality traffic to online shops by displaying their products to a monthly audience of millions e-shoppers.
Managing 275 million offers monthly, our proprietary network of leading European Price Comparison sites, offer self-service or full campaign management solutions for your Google Shopping Ads campaigns. Our White Label Comparison Shopping Sites provide independent access to Google Shopping Ads for your customers, enabling you to become a Google CSS Partner.
Partner with us and benefit from our wide range of retail and travel lead generation solutions, adapted to your clients' business needs and budget.
Gain support globally via our teams of experts
and proprietary technology
A high performing inventory

5 proprietary CSS websites
Partnerships with Google, Yahoo! and Bing
Premium Publisher network

Dedicated service from experts

Dedicated traffic and PPC managers
Guaranteed SLA and quick response with our in-house dev team of 100+ people

Global reach & Local presence

Active in 26 markets Worldwide
Offices in 7 major European cities
Single point of contact whatever the number of countries you want to reach

Our dedicated team of experts
Our team of seasoned agency experts can find innovative strategies for your ad campaigns, in all major ads networks across Europe and the Americas. Certified by leading publishers and brands with SLA and RGPD compliance guaranteed. Get in touch to find out more about how we can help you and your customers.